Services Provided
Personalized Bike Fit: $245
• Includes full personalized positioning on bike including Essential flexibility and ROM assessment, foot sizing and arch analysis, cleat placement, saddle positioning, reach positioning with sizing stem
• Ergonomic handlebars trials
• PRO Bike Gear, Ergon, gebioMized, Terry, Prologo, and ISM Saddle Demos available
• EXiT Fit Bike with on the fly adjustments, Power and Cadence Monitor
• Dynamic Motion Capture Video Analysis
• Detailed Documentation of your position
• Specific Recommendations to achieve your fit

Home Fitness Bikes: Home Fitness Bikes require the same precision fit that bikes on the road or trail do to optimize comfort, improve performance, and prevent or address injury. PT Bike Fit will travel to fit your Peloton, Wahoo Kicker, or other home-based fitness bike using the same comprehensive approach used at the office.

Personalized Bike Fit with gebioMized Saddle Pressure Mapping: $290



• Pressure mapping is valuable for every rider but most beneficial for any rider dealing with saddle discomfort or numbness, pain syndrome in any location you are aware of for more than 4-6 weeks, recent change of equipment at any contact point, or the rider looking to take their position to the next level.
• Begins with all features of the Personalized Bike Fit and goes beyond with a heightened level of detail found with Saddle Pressure Mapping
• Saddle pressure mapping provides valuable insight into:
- Location and intensity of pressure on the saddle
- Asymmetrical sitting postures related to saddle position, cleat position, handlebar position, crank length, and leg length discrepancies.
• Refer to PT Bike Fit's Blog in the Contact Us section or Instagram for case examples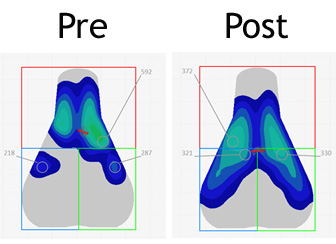 Bike Fit with Flat Pedals: $195, with aerobars $240
• Includes all items from personalized bike fit but done with your normal riding shoes that do not have cleats
• Follow up visit included
Fit First Buy Later/Custom Bike Design: $345 --- add Saddle Pressure Mapping for an additional $20
• Compare the fit of any bike on the market using stack and reach data or use fit data for a custom frame build
• Full bike fit included with access to all fit data
• Includes follow up visits with the first to dial in your position after #newbikeday and the second follow up to use as needed to make minor changes and address any feedback after a period of riding

Size First Buy Later: $125
• Have confidence in purchasing the right model and size of bike
• Compare the fit of any bike on the market using stack and reach numbers prior to purchasing during session
• Stack and Reach data chart comparing your position to potential bike options and discussion of which bike would provide the best fit
• Detailed Fit Data is not inlcuded with Size First Buy Later. If you are looking for Fit Data, position setup, and included follow ups consider the Fit First Buy Later service

gebioMized Saddle Pressure Mapping – saddle sales and demo sessions – $75
• Objectify the way you search and select the right saddle with live feed saddle pressure mapping
• Demo any of the PRO Bike Gear or ISM saddles PT Bike Fit stocks or bring your own saddles to try from any source you like. PT Bike Fit will work with your bike shop to help you find the right saddle as well
• Includes the time you need to properly demo saddle options on the EXiT Fit Bike with gebioMized Saddle Pressure Mapping and includes expert positioning of your new saddle. Your saddle position is documented and given to you so you can find that sweet spot again and again
• Follow ups included during your saddle selection process
• Saddle Demo available - refundable deposit required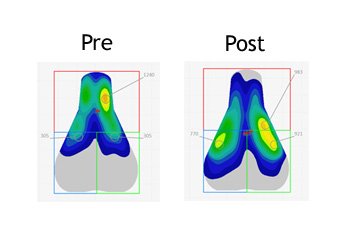 PT Bike Fit stocks the following saddles:
•PRO Bike Gear Saddles
•ISM Saddles
• gebioMized Saddles: Sleak, Area, and Stride TT saddle
• Ergon Saddles: Men/Women/Mountain Bike/Road/Touring/Indoor
• Terry Saddles: Multiple Women's options and Men's Fly Ti
• Prologo Saddles
Fit Matching: Transfer your previously fit bike from PT Bike Fit to your current bike: $125
Transfer all measurements to a different bike of similar style with use of X/Y measurements, data from bike fit, and saddle position matching so your many bikes all feel the same. Setting new cleats or shoes not included.

Cleat Installation and Assessment: $60
Cleats are the foundation for your pedal stroke: A thorough and comprehensive assessment of your cleat position including laser assessment of lower extremity movement patterns. Cleat fore/aft, heel in/out, and medial/lateral positioning. Assessment for indications to use wedging or spacers to improve movement pattern or symmetry.

Virtual New Frame/Bike Consultation (for established clients only) - $50
- Making good sizing decisions takes time, comparison to previous fits, and some detailed number crunching. Consult with established clients on new bike purchases via email or phone on potential new bike purchases.
- Part recommendations are unable to be provided with this service.

Cycling Shoes
PT Bike Fit offers Bont Cycling, Lake Cycling, Pearl Izumi, and Shimano shoes for the rider whose shoes are a concern. A detailed foot assessment is included in the pre fit exam including forefoot position, arch height, as well and foot and arch length. Individual considerations are also noted with any recommendations for shoe wear. The right shoe for you can be found among the various models these brands offer.

-
Wide sizing:
Feet measuring wide are fairly common, shoes that fit feet measuring wide are not: Bont, Lake, and Shimano offer wide sizing for individuals needing extra room in the forefoot.
-
Bont and Lake Cycling
offer high quality shoes and a renowned fit for various foot types. Sizing is rider specific to accommodate narrow, standard, and wide feet. Sizing is specific to Bont and Lake methods and can be completed using their sizing method. This can be performed during fit appointments or by appointment for sizing.
In Stock Shoes
- Bont Vapor+, Leather, Black/White. Size 45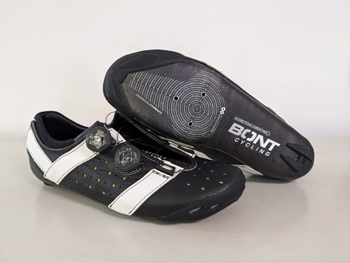 - Bont Riot+ Black/Gold, Size 45 Wide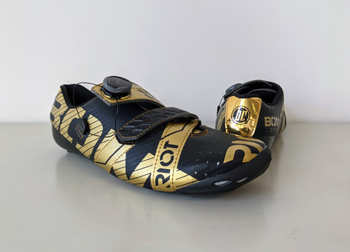 - Bont Helix Black/Black, Size 45 Wide
- Lake Cycling shoes in varying sizes from 40-46: CX241, CX332, CX218, CX238, MX332 and MX332 Lite, CX176






Pedals
Pedals are a common topic of conversation and different pedal systems offer different advantages and disadvantages to others. To meet the needs of riders with various fit considerations PT Bike Fit keeps in stock Shimano and Look pedals as well as cleats for these road and mountain systems which are important to keep in good shape to prevent unwanted accessory movements or deviations of the pedal dynamics.

Pedals/Cleats In Stock now
-Shimano Ultegra SPD-L +4 mm Spindle Road Pedal
-Platform Pedals: Look Geo City and Geo City Grip
-Look Keo 2 Max Pedal
-Look Keo Blade Carbon Pedal
-Look X-Track Race SPD compatible pedal with 6 degrees float
-Keo Grip Grey (4.5 deg), Red (9 deg) Cleats
-Look X-Track SPD compatible cleats
-Shimano SPD-L and SH-SM51 SPD Cleats
Superfeet Insoles
Cycling shoes and the forces applied to our foot while riding are unique. The shoe footbed is hard and flat and we put pressure through the forefoot over thousands of cycles during the ride. This pressure can be modified to improve comfort, address dysfunction/pain, and improve stability and therefore force production. Superfeet are one option to meet this goal and are now stocked in different styles to match your available shoe volume and arch type. As part of the pre-fit process, a detailed foot assessment is performed to see what is the right intervention for you.
Models in Stock: Carbon, Hockey Pro Carbon, Black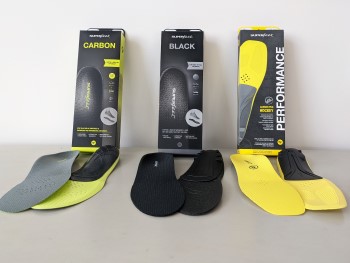 Gift Certificates Available
Contact PT Bike Fit here for certificates:
717-333-9717
ptbikefit@outlook.com
Message with WhatsApp
Additional services and follow ups available upon request

Use the Contact Us links to schedule your appointment or find out more about bike fitting services

Connect with PT Bike Fit on Social Media