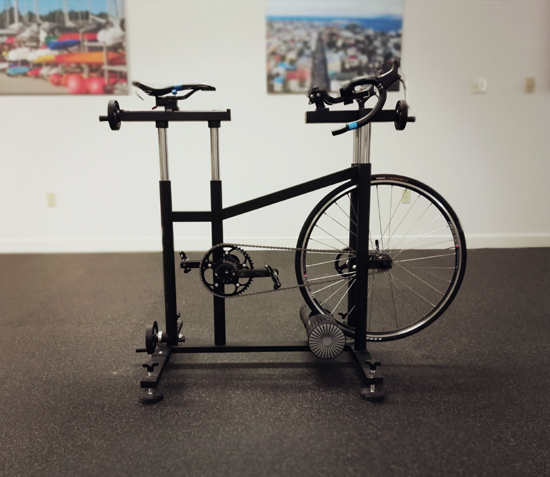 EXiT Fit Bike
The EXiT Fit Bike is a completely dynamic machine which allows the easiest changes between positions. Bike position can be replicated using stack and reach numbers or X/Y Tool measurements. Provides live readouts of your power and cadence confirming the positive changes being made during your fit.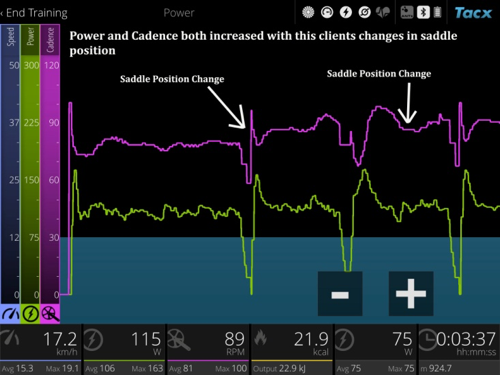 With the EXiT Mk II fit bike you can:
- Compare multiple bikes fit before you make a purchase based on available stack and reach measurements
- Bike manufacturer's proprietary components make fitting difficult. With the EXiT Fit Bike we can set up your position virtually to get the right fit
- Power and Cadence monitoring through the Tacx Bushido Resistance Unit to confirm the positive impact of any changes made
- Fit bikes with Thru axles that will not fit on a standard trainer

- Less Stop and Go: Changes in position are made as you pedal for the ultimate in feedback to compare positions
Get fit for your dream custom frame!
What Is Bike Fit?
Bike fitting is the process of methodically aligning your body in a position where the repetitive strain on muscle and joints is minimized, pressure in vulnerable points is reduced, and your body is allowed to function at its peak for the greatest amount of time.
Included in your fit is an educational and instructional journey through the following areas: - Foot and lower extremity flexibility assessment - Assessment and proper positioning of cleats - Shims and wedges are included with fit - Proper saddle positioning - Pressure relieving Test saddles available for men and women - Simulated Handlebar reach with sizing stem - Ergonomic handlebar samples available - Detailed measurement and documentation of position - Documentation provided to you electronically for your records - Laser sighting for measurements and to analyze joint movement - Before and after photo documentation of your position - Motion Capture Video Analysis - Specific recommendations for bike setup and parts at completion of fitting - Follow up appointment included with fitting to ensure the best outcome - Bike Fit matching available using XY measurements - Education on components of proper bike fit
Connect with PT Bike Fit on Social Media